London has some of the highest levels of air pollution in the country, with road transport contributing to over half of the most harmful emissions. Discover how we're helping to overcome this problem — and how you, too, can make a difference.
In some areas of Westminster, national air quality objectives have been exceeded. Meanwhile, vehicle pollution and engine idling (leaving your engine running while not in motion) continue to negatively affect air quality in Westminster, damaging the health of the old and young alike.
However, by making small changes in our everyday lives, we can all help to reduce harmful vehicle emissions and therefore improve the quality of life in the city of Westminster. Here's how:
Switching commercial waste collector to support the #DontBeIdle campaign
At Westminster City Council Commercial Waste Services, we have a legal obligation to collect waste from every street. As such, it makes sense for us to collect as much waste as possible while we're passing through. This reduces the need for vehicles from other waste collectors to travel in and out of Westminster. Other collection services simply duplicate what the City Council does around collections, making the overall set-up inefficient and with environmentally damaging consequences.
Unlike some other waste collectors who operate in Westminster, we also manage and process all of the waste that we collect locally. This results in further reductions in air pollution, since we are never travelling far to dispose of waste. Some other collectors export business waste across the UK, the continental mainland or even further beyond, relying on extensive truck-based haulage.
So by selecting us as your chosen commercial waste collector, you will be helping to reduce the number of vehicles coming in and out of Westminster, thereby reducing vehicle pollution.
At Westminster City Council, clean air is important to us. We are hoping you will join us in our mission to reduce harmful vehicle emissions and make Westminster a healthier place for everyone to live, work, and visit.
If you're unsure whether you should switch commercial waste collector, we have made your decision easier than ever.
We have produced a guide covering 8 checks that you should make before switching commercial waste collector. You can get your copy below.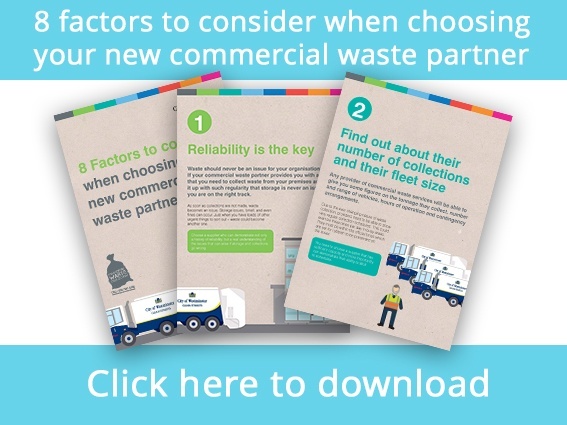 More ways you can help
Reducing vehicle pollution is key to reducing air quality in Westminster, so using public transport whenever you can or opting to use a low emission pool or rideshare car when you have no other option can make a difference.
However, a particularly prevalent problem is engine idling. Leaving your vehicle's engine running unnecessarily pollutes the air, causes unnecessary noise, and costs you money.
Ensuring your engine is switched off when stationary has the following benefits:
Reduces pollution — turning your engine on and off causes less pollution than keeping it running.
Protects your health — switching your engine off reduces the risk of health issues including asthma, heart disease, and lung cancer.
Saves you money — engine idling also means your vehicle is consuming more fuel, costing you money that can be better invested elsewhere.
Prolongs the life of your vehicle — leaving your engine running causes unnecessary wear and tear. Cutting this habit can keep your vehicle in good condition for longer.
Look out for marshals on the street speaking to drivers about the impact of engine idling on pollution levels in Westminster. If a driver is asked to switch off their engine by a marshal and refuses, they risk being issued an £80 fine.
Get involved: #DontBeIdle campaign
The #DontBeIdle campaign was set up to raise awareness about vehicle pollution and engine idling and, more importantly, to encourage people and businesses to be more mindful when it comes to road transport.
On 27th March at Marylebone High Street, Westminster City Council colleagues Gemma, Vicky, and Jarno alongside Jeyda and Nick from Veolia Westminster demonstrated their support for the #DontBeIdle awareness campaign.
Here we spoke with drivers about the dangers of engine idling and offered information and advice encouraging others to sign the pledge and commit to improving air quality in Westminster.
At Commercial Waste Services, we put our words into action. By interacting with others in the community and educating them on the benefits of reducing vehicle pollution, we can make a difference. Why not hand out these #DontBeIdle leaflets in your workplace to raise awareness about engine idling?
To become an air quality champion yourself, please come along to our next anti-idling event. Here you will meet others in the community, get to know the area, and most significantly, help to make a difference to air quality in Westminster.
Click here to learn more about the cause today.
To show your commitment and help to transform air quality in Westminster, click below to sign the #DontBeIdle pledge today. Together, we can make a difference.
Westminster City Council's Marylebone Low Emission Neighbourhood (LEN) Project
The LEN project has been implemented in the Marylebone area with an aim to improve and raise awareness of air quality in Westminster.
Find out more in the video below.